Orcas or Killer Whales are the largest of all the Dolphins and swim in family groups of up to a dozen.

Over the past two decades, we have documented the migrating habits of various groups of Orcas through the Alor Archipelago.
On many previous occasions, we have offered our guests the once in a lifetime opportunity to snorkeling with these "Gentle Giants".
The largest group we have encountered was a family group of nine females with juveniles and one satellite male.
With this particular group, we snorkeled with them on three separate occasions coming within meters of them.

Our fascination with these giant mammals is never ending and we often spend many hours just observing their unique behavior as they go about their lives.
We recently witnessed a unique spectacle of a group of three individuals systematically isolate and kill a dolphin right in front of us.
Sorry our photographs are not of National Geographic quality. We'll try harder next time.

Orcas and Sunfish are two of the most unique of sea creatures. They are found regularly in Alor waters throughout the year.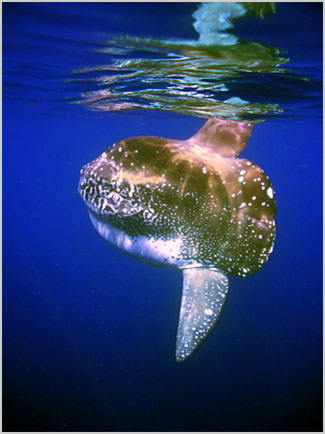 Diving or snorkeling with Sunfish is something that eludes most divers, even the seasoned ones.
In Alor, Sunfish have not only been seen by us, while diving, at most of our 50 odd dive sites but we now have discovered the secret to snorkeling with them on a regular basis.
Each individual animal has it's own markings, much the same as a dairy cow, so we can identify if we see the same one more than once.
From around fifty five separate sightings over the years, we have yet to encounter the same individual twice. We can only assume from this that there are large numbers of Sunfish inhabiting the Alor Archipelago.
These amazing creatures launch themselves out of the water and create a huge splash up to three times in a row and are often mistaken for the breach of a Manta Ray. Living in mid-water and said to only venture near to shore to feed from the reef - Sunfish are the strangest underwater inhabitants.